A feature I'd like to see built-in into Windows is the ability to force a window to stay on top of other windows. I was disappointed to notice that even Windows Vista does not have that option.
A simple, small tool to do this, is Ontop. It adds an option to the menu that appears when you right-click on an window title bar: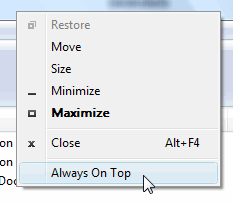 The tool was developed by PlanetScott for Windows 95, 98 and 2000, but it runs fine on Vista as well. The author's website now is empty.
Many thanks to Abdussamad's Webspace, where I found the first reference to this tool.
Download: OnTop 1.0 (zip, 21KB)